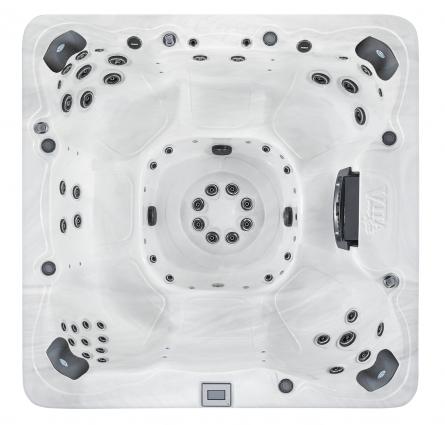 The Massive 8ft Grand gives you more space and multi-levelled barrier free seating.
The Grand is part of our Best Selling 500 Series and offers a large spacious all seating family party fun tub. Powered by Two 5hp Pumps and a Champagne Air system the Prestige has 53 Stainless Steel Jets + 10 Champagne Air outlets, offering Large Dual Cartridge Filtration, High Efficient Recycled Insulation, Latest Technology M7 Heating, Bluetooth Music System with Sub-Woofer, LED Waterfall, 4 LED Cup Holders, LED pillows & 12 bright underwater LED lights along with easy to read programmable touchscreen topside controls.
Layout: The 8ft Grand gives you more space, indeed this multi-levelled barrier free seating Hot Tub is massive. The Grand has 4 large and very accommodating corner seats all giving a different deep hydrotherapy massage as well as 3 further seats. If you want to lounge, then the curvy corner seats allow you to spin around and lay your legs out. If you looking for foot therapy then the Grand's extra large footwell let's you enjoy powerful foot massage via the large foot dome which has 10 jets and the High Velocity Volcano jet located within it.
Capacity/Seats 7
Exterior Dimensions* 92.1in x 92.1in x 37.9in
Total Jets 66
Water Capacity 985L
Dry Weight 776Lbs
Filled Weight 5366Lbs
Features
Aqua Burst™ Plus
Excel-X™ (Simulated Wood)
Freeze Protection
BlueMAAX™
Perma-Shield Bottom
Premiere Styled Cover
LED Pillows